We provide opportunities for
hard-working people who have limited resources and unlimited potential.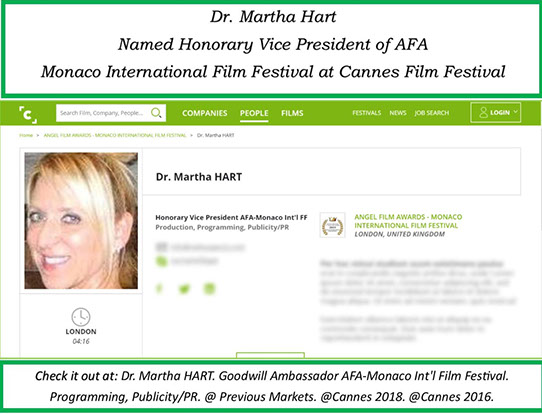 MIFF 2019
Honorary Vice of President AFA
Dr. Martha Hart Named Honorary Vice President Of The Angel Film Awards At This Year???s Cannes Film Festival 2019!!
Dr. Hart has proudly had a long-standing and multi-layered affiliation with The Monaco International Film Festival and its founders Rosana Golden and Dean Bentley, serving several times as a Film Festival Jury Member, Goodwill Ambassador, Awards Presenter and now as their Honorary Vice President. The Monaco International Film Festival is the ONLY film festival in the world that promotes Non-Violent Film and Screenplay to celebrate peace, love, and the art of film making. It is a lofty global message that Dr. Hart respectfully embraces and endeavors to humbly encourage worldwide.
Check it out at:
angel film awards - monaco international film festival -
17th edition ANGEL FILM AWARDS - Monaco International Film Festival - December 9- 12, 2019 The Angel Film Awards the leading festival...Dr. Martha HART https://cinando.com/en/People/hart_dr_martha_420072/Detail